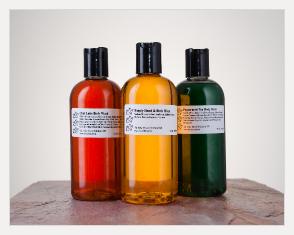 Body Washes
For the shower lovers among us, and just those who like the ease of a bottle by the sink, these Hand & Body Washes are for you.
These soaps blend coconut, olive, palm and castor oils. They lather well, rinse off clean and are still gentle to the skin.
Basic Ingredient List
Filtered Water, Saponified oils of Coconut, Olive, Sunflower, Palm & Castor, Essential OilBlend
Then, depending on the flavour, I might add natural colours.