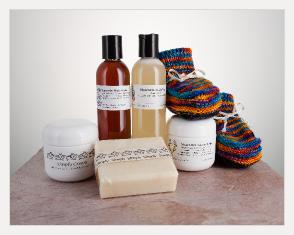 Welcome!
Here at the Body Blessed, we produce handcrafted bath and body products to look after your outside - from head to toes. We use natural ingredients, essential oils and clays for colour. Our goal is to create simple but effective products.
Somehow we've made it to and mostly through 2022. Go us! I have applied a small price increase to a few products. This is less about current markets and more about my incredible procrastination. It's also about future proofing. I will be changing from plastic jars to glass jars as I work through my supply. I will be happy to be contribute a bit less plastic to the world.
The Christkindl Markt will be back, in person, this year and I'll be there too. This year's dates are December 1 to 4. As well, I'll be running the virtual market as I've done in the past few years:
FREE Delivery
For local (Kitchener-Waterloo) orders placed betwee December 1 and 10 will be delivered for free on December 10/11.
To select this free delivery option, please use the coupon code FREEDELIVERY at checkout.
Your order must be paid before delivery and delivery will be contactless.
Pick Up Your Order
Need your order on a specific date? You are welcome to pick up your order. See our address at the bottom of the website.
Please use the coupon code PICKUP at checkout and leave a note to indicate when you would like to pick up.
Orders must be prepaid and pickup will be contactless.
Shipped Orders
Not in Kitchener-Waterloo? I can ship your order via Canada Post*. I will provide shipping options and costs prior to requesting payment and, depending on volumes, it may take me a day or two to get back to you.
Orders must be prepaid.
*Please note that I can't guarantee delivery times for shipped order. These orders are dependent on Canada Post volumes.
Thank you for supporting a small business!
- Sue